And…it's a wrap on another year. As you head into 2020 full of enthusiasm for a year better than any you've ever experienced before, what's making your heart pound with excitement? If you're looking for a new thrill, here are 19 adventures for 2020 that you can find right here in Zion.
1, 2, 3. Explore a national park.
Check three national parks off your bucket list in one vacation.
• Zion National Park –Renowned for world-class hiking to The Narrows and Angel's Landing, and carved over thousands of years by the forces of erosion, the beauty here is breathtaking. Zion Ponderosa is literally on the eastern edge of Zion National Park. We're just minutes from the east entrance, where you can drive through the historic Mt. Carmel Tunnel and take the scenic drive through the park to the canyon floor. Another option is to hike down into the park from Zion Ponderosa property. We also have hiking shuttles to the visitor center.
• Bryce Canyon National Park – The red rock hoodoos carved by wind and water are unlike anything you've ever seen before. Whether you hike along the rim trail for a view from above or through the amphitheater surrounded by hoodoos, the adventure is unforgettable. Located 75 minutes from Zion Ponderosa.
• Grand Canyon North Rim – This one is for the adventurers who enjoy the road less traveled. Skip the crowds and experience the north rim that's visited by only 10% of Grand Canyon visitors. Located just two hours from Zion Ponderosa, and open from mid-May to mid-October.
4. Radio Tower Jeep adventure
If you're looking for adventure, you may as well start at the very top. After a rugged backcountry Jeep ride, the incredible vantage point of Radio Tower offers 360-degree views of Zion and the surrounding national parks and wilderness. This adventure will leave you speechless. (2 to 2.5 hours)
5. Canyoneering
The adventure you've been waiting for your entire life. Explore Zion's magical slot canyons with a full-day or half-day canyoneering adventure.
6. Combo jeep and canyoneering adventure
Why limit yourself to one adventure when you can have two? Climb aboard a custom East Zion Jeep for the ride of a lifetime to one of Zion's most scenic slot canyons. Then make two rappels totaling 120 feet through the narrow slot canyon walls for an amazing adventure. It's a half day of heart-pounding, blood-pumping excitement you'll never forget.
7. Take a rappelling course
Gear up for a canyoneering adventure with a few practice sessions. Rappelling lessons are available for ages 8 and older. Learn safety and technique, then take two rappels from a 45-foot climbing wall.
8. Zip Line
Thrill seekers of all ages love this adventure. Zip across Zion Ponderosa property from the top of our 45 climbing wall/rec barn tower for a fun adventure even newbies will enjoy.
9. Hike the Narrows
As one of the world's most spectacular and awe-inspiring hikes you'll ever experience, The Narrows is a bucket-list item for many adventurers. The entire hike from the entrance after Riverside Walk to Orderville is 16 miles, but you can customize the hike distance to make the most of your adventure. The Narrows was featured on National Geographic's list of America's Best 100 Adventures. Get the hiking guide here.
10. Climb Angels Landing
Hikers come from all over the U.S. and abroad for the challenge of this thrilling trail, which can take from three to six hours to complete. From the challenging switchbacks of Walter's Wiggles to spine-tingling drop-offs and a beautiful 360-degree view from the summit, there's adventure at every twist and turn of the Angels Landing adventure hike.
11. Women's Adventure Retreat
Join Zion Ponderosa and AdventureWomen this spring to explore southern Utah on foot, on horseback, by Jeep and helicopter. From hiking in Zion and Bryce Canyon to canyoneering, this is the ultimate adventure for women.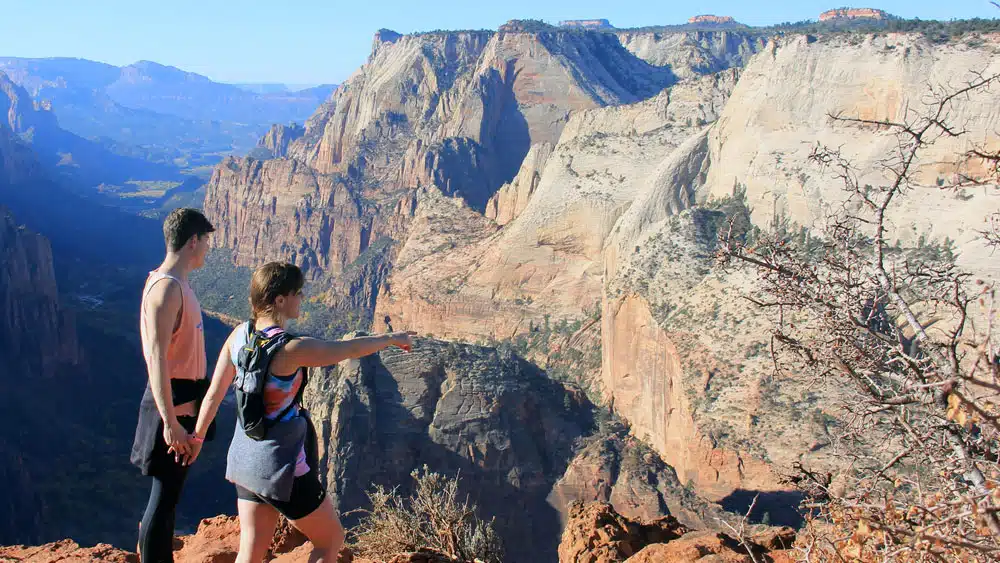 12. See the best view in Utah
Backpacker magazine calls Observation Point the best view in Utah. Whether you hike along the East Mesa Trail from within Zion National Park or trek across Zion Ponderosa Ranch Resort, the view is the best part of this adventure.
13. Snowshoe to Cable Mountain
Here's an adventure you don't have to wait for. We have snow and you have time. Stay in a luxury vacation home and snowshoe right outside your door. The rest of the year, Cable Mountain is one of Zion's best-kept secrets. Shhhh. Don't tell the others – but come enjoy the adventure.
14. Explore Gems of Zion
Get to know Zion the locals' way. On this guided adventure, you will experience some of Zion's hidden gems a beautiful slot canyon to the majestic vista from Canyon Overlook. Finally, just as the sun reaches its peak, take a swim in one of the natural swimming holes located within the park. This guided excursion is good for adventurers of all ages.
15. Take a hike
But not just any hike. Choose a hike from this list or get assistance customizing your dream hiking adventure. Make every moment of your hiking adventure count under the guidance of an expert hiking guide.
16. Horseback riding
Adventure is what you make it, and even though a horseback ride isn't the most daring thing you could ever do, it's a Wild West adventure in and of itself.
17. Red Canyon Jeep Tour
Venture to scenic overlooks of the east fork of the Virgin River in a custom Jeep cruiser. This adventure also educates as you discover the dramatic geology of Zion caused by erosion and learn how the Native Americans and early settlers existed in this dramatic terrain.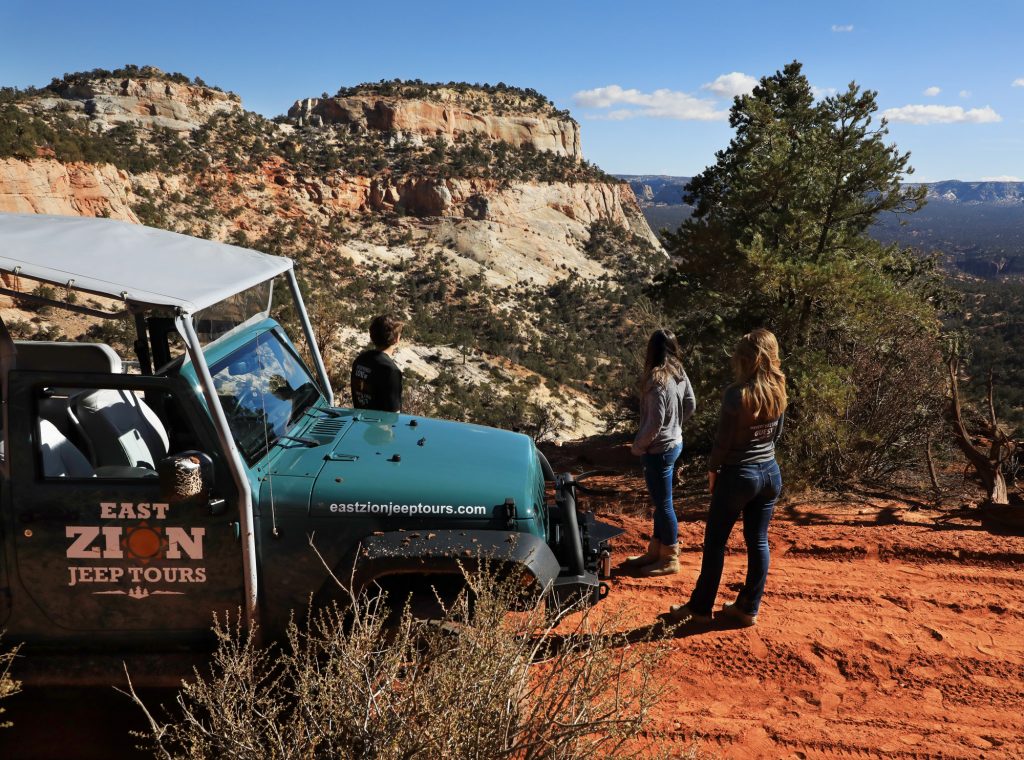 18. Brushy Cove / Elevator Road Jeep Tour
Sit back and enjoy the ride as you ascend switchbacks and gain elevation, pass an abandoned miners cabin, and take in the views of Zion and the surrounding canyons. This Jeep adventure gets your heart racing.
19. Sunset Jeep Tour
Sometimes it's about the journey AND the destination. Take it simple and slow with this quiet adventure and enjoy the pastel hues as the sun sets over the western horizon. A sunset jeep tour is the perfect end to an adventure-packed day.